新聞來源:BBC
---
US Supreme Court rules gay marriage is legal nationwide
美國最高法院將同性婚姻法案為全國性法案
The US Supreme Court has ruled that same-sex marriage is a legal right across the United States.
美國最高法院將同性婚姻通過為全國性法案
In a landmark 5-4 decision, Justice Anthony Kennedy writing for the majority ruled that marriage is a constitutional right for all.
最終是以5:4的比數,大法官 Anthony Kennedy為此判決之主寫者。(註1)
"No union is more profound than marriage," he wrote, backed by the court's four more liberal justices.
「沒有可以比婚姻更為重要的事情,就算是國家也不例外」大法官寫道,同時有四位自由派(註2)的支持。
It is unclear how soon marriage licences will be issued in states where gay unions were previously prohibited.
現在仍不清楚之前各州禁止同性婚姻法案的修法速度。
Writing one of the dissenting opinions, Chief John Roberts said the constitution "had nothing to do with it".
首席大法官 John Roberts在主要反對理由書中認為憲法「沒有必要做此判決」。
However, Christian conservatives decried the decision.
無論如何,保守派基督徒譴責此項法案。
"We must resist and reject judicial tyranny, not retreat," said Mike Huckabee, Republican presidential candidate and former Arkansas governor.
「我們必須拒絕且反對司法暴政,而不是退守」,前共和黨總統候選人及前Arkansas州長 Mike Huckabee 說道。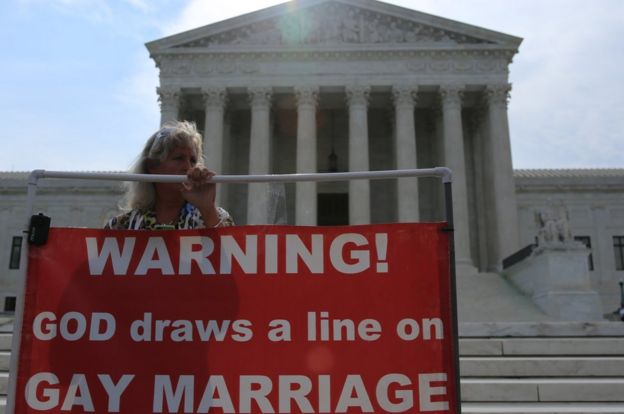 Before the ruling on Thursday, gay couples could marry in 37 states in addition to Washington DC.
在今天通過法案以前,同性伴侶可以在華盛頓特區及其他37個州結婚
Now the remaining 14 states, in the South and Midwest, will have to stop enforcing their bans on same-sex marriage. Minutes after the ruling, couples in one of those states, Georgia, lined up to be wed.
現在在南方及中西部的14個州必須要廢除對於同性婚姻的禁令。在此法案通過的幾分鐘後,有些新人在這之中的喬治為亞州,排隊等結婚。
Loud cheers erupted outside the court after the ruling was announced, said the BBC's Paul Blake at the Supreme Court.
BBC記者 Paul Blake在最高法院外說:「在法案公告的時候,最高法院外大聲歡呼喝采
Hundreds of people had camped out for hours awaiting the news.
上百人為了等消息,在最高法院外了守候了好幾個小時。」
One of the demonstrators, Jordan Monaghan, called his mother from his mobile phone amid the celebrations.
其中一個示威者 Jordan Monaghan ,馬上打電話給他母親,告訴她這個好消息:
"Hey mom, I'm at the Supreme Court. Your son can have a husband now," Mr Monaghan said.
「嘿老媽,我現在在最高法院外,你兒子現在可以有老公了!」Monaghan先生說。
On social media, Democratic presidential candidate Hillary Clinton merely tweeted the word "proud" and the White House changed its Twitter avatar into the rainbow colours.
在社交媒體上,民主黨參選人 Hillary Clinton 僅推特說「驕傲」,而白宮將推特的封面照片換成彩虹色(註3)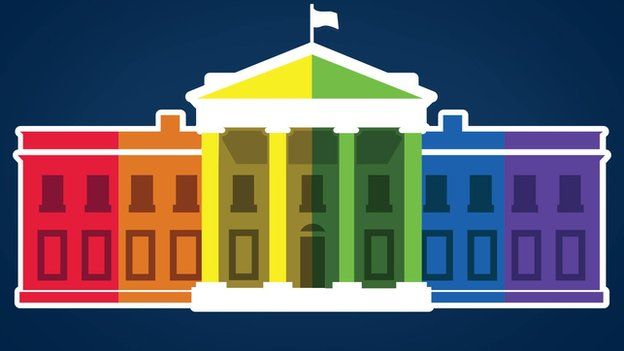 The case considered by the court concerned Jim Obergefell, an Ohio resident who was not recognised as the legal widower of his late husband, John Arthur.
在俄亥俄州的居民 Jim Obergefell 非常關注此事,因為他那不在法律上被承認的亡夫 John Arthur。
"It's my hope that gay marriage will soon be a thing of the past, and from this day forward it will simply be 'marriage,'" an emotional Mr Obergefell said outside the court on Friday.
「我希望同性婚姻會變成過去式,就僅稱其為『結婚』」Obergefell 先生,星期五在法院外感性的說。
The first state to allow same-sex marriage was Massachusetts, which granted the right in 2004.
第一個通過同性婚姻法案的州是麻薩諸塞州(麻州),在2004年通過的
In recent years, a wave of legal rulings and a dramatic shift in public opinion have expanded gay marriage in the US. In 2012, the high court struck down a federal anti same-sex marriage law.
在前幾年,同性婚姻以一波波法律判決及戲劇型的速度變成美國主流大眾民意。在2012年時最高法院就把禁止同性婚姻法案擋下。
翻譯:Swattw
轉載請註明原作者及譯者
---
註1:美國除首席大法官(Chief Justice)外,是按照資歷排名。當通過法案的時候,如果首席大法官是多數方,便是判決主筆人。相對的,如果首席大法官不是多數邊,則為最資深的大法官代表主筆判決。由此可推論,首席大法官及排名第二的大法官Antonin Gregory Scalia均投反對票,才由第三名的大法官主筆。
註2:相對於保守派,稱為民主派(也及共和VS民主的概念),大多是由民主黨提名,而此大法官以前被歸類在保守派。
註3:彩虹旗為同志LGBT團體的象徵,亦稱為「LGBT驕傲旗」。